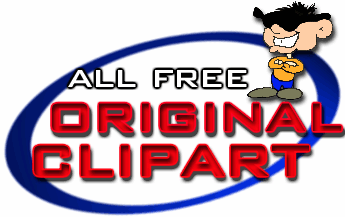 That's right, you've arrived at All Free Original Clipart. Now Hosting Over 30,000 Free Clip art Images, such as animated gifs, backgrounds, bullets, clip art, images, and pictures; all free for you to download. Browse the many pages on this site, or, use the search box to find exactly what you need, hassle free with no annoying pop-ups. On the left column of this page, you will find categories that will take you to our vast collection of images. Also, the archive is updated frequently, so bookmark it and check back often.
Our Most Popular Clip Art Categories




Smiley - Angry, sad, happy, silly, and more faces.

Cartoons - funny characters, animals, and more.

Birthdays - gifts, party, hats, balloons, and cake.

People - faces of men, women, and children.

Babies - bottles, bibs, diapers, and toys.

Holidays - our selection of holiday images, covering all the special occasions.

Borders - various colored borders, square, oval, and circles.

Silhouettes - Black outlined images.

See our entire clip art section - all sorted by category.
---